Buying the perfect bedsheet for your bed can be a difficult task. With so many options for design, color, size, fabric, and thread count, it can be overwhelming to decide which one to choose. However, by considering factors such as the weather or a specific type of fabric, you can make an informed decision for purchasing a bedsheet for your bed.
Before going into designs and more details, let's take a look at the different types of fabric that are commonly used for bedsheets. The most popular fabrics are cotton, linen, silk, and polycotton.
Cotton is a natural fabric, it's known for its breathability, softness, and durability. Cotton fabric is a great option for summer, as it keeps you cool and comfortable. Cotton is known for its long fibers that create a soft and smooth finish.
Silk: Silk is a luxurious fabric, it is known for its softness and shine. Silk bedsheets are perfect for the winter season, as they provide warmth and insulation. Silk bedsheets are also hypoallergenic making them a great option for people who have sensitive skin.
Linen: Linen is also a popular fabric for bedsheets, it is a natural fabric that is known for its durability and breathability. Linen bedsheets are perfect for summer as they keep you cool and comfortable. Linen sheets are also known for their unique texture and drape and are available in a variety of colors and patterns.
Polycotton: Polycotton is a synthetic fabric, known for its durability and wrinkle-free nature. Polycotton bedsheets are a great option for year-round use, as they are lightweight and easy to care for.
Now that you have a clear idea about the various fabrics of bedsheets, the next step to choose the perfect bedsheet is the thread count. The thread count refers to the number of threads per square inch of fabric. A higher thread count means a softer and more luxurious feel. As the thread count increases, so does the price. A thread count anywhere between 200-800 is considered good quality.
Now that you've selected the fabric and thread count for your bedsheet, it is now time to select bedsheets according to your mattress, as bedsheet sizes vary. A bedsheet that is too large with not stay in place and will wrinkle easily, whereas a bedsheet that is too small will not fit perfectly.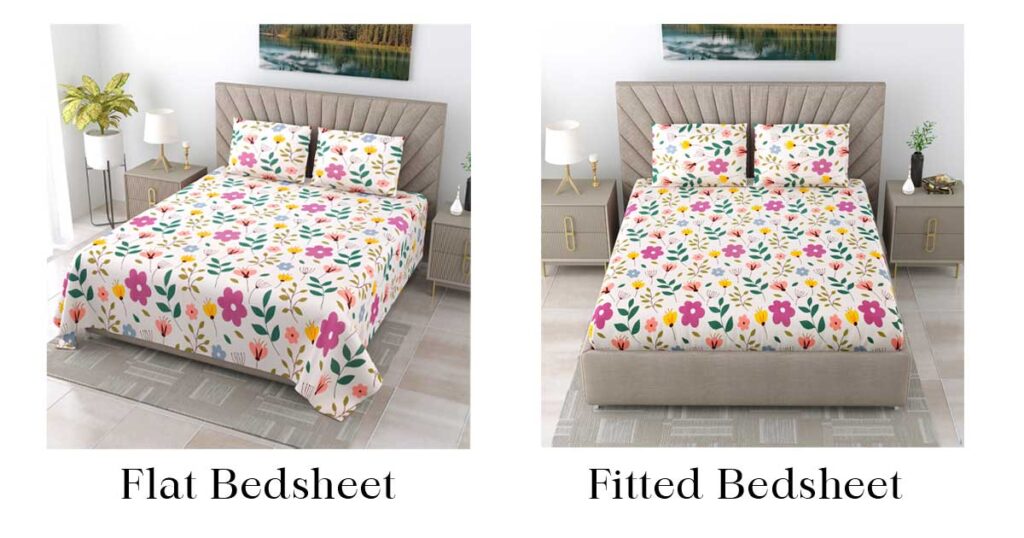 According to the Indian climate, cotton, and linen are the most popular fabric choices due to the hot and humid climate. As they are lightweight and breathable and keep you cool and comfortable.
Steps to make your bedsheet last longer
After purchasing your bedsheets, now it's important to take care of bedsheets to make them last longer. Here are a few steps you should consider for making your bedsheet last longer:
Always follow the care instructions on the label. Different fabrics have different care instructions, so it's important to read the label before washing your bedsheet.
Use a mild detergent and wash on a gentle cycle. Avoid using harsh chemicals or bleach, as they can damage the fabric.
Avoid overloading the washing machine. Overloading can cause the fabric to stretch and lose its shape.
Avoid using high heat when drying. High heat can shrink and damage the fabric. Instead, use a low or medium heat setting or air dry your bedsheet.
Ironing is not recommended for most bedsheets. If ironing is necessary, use a warm iron and avoid using steam.
Designs for your bedsheets
Feature a print or design of flowers on the fabric.
Light-colored bedsheets.
Provide a fresh and natural feel to your room.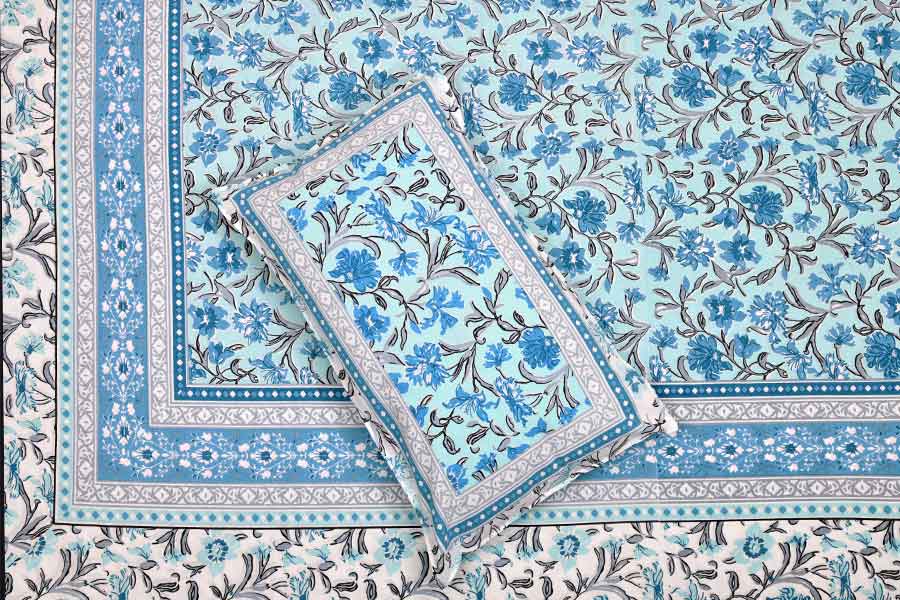 Mandela bedsheets:
Feature a mandala design on the fabric.
Mandala is a geometric design often used in spiritual and ritual contexts.
Symmetrical with a center and depict a variety of geometric shapes and patterns.
Dabu bedsheets:
Made using traditional Indian printing called Daabu printing.
Dabu printing is an ancient technique of printing unique to India.
Known for its natural and earthy feel.
Mostly dark-colored bedsheets.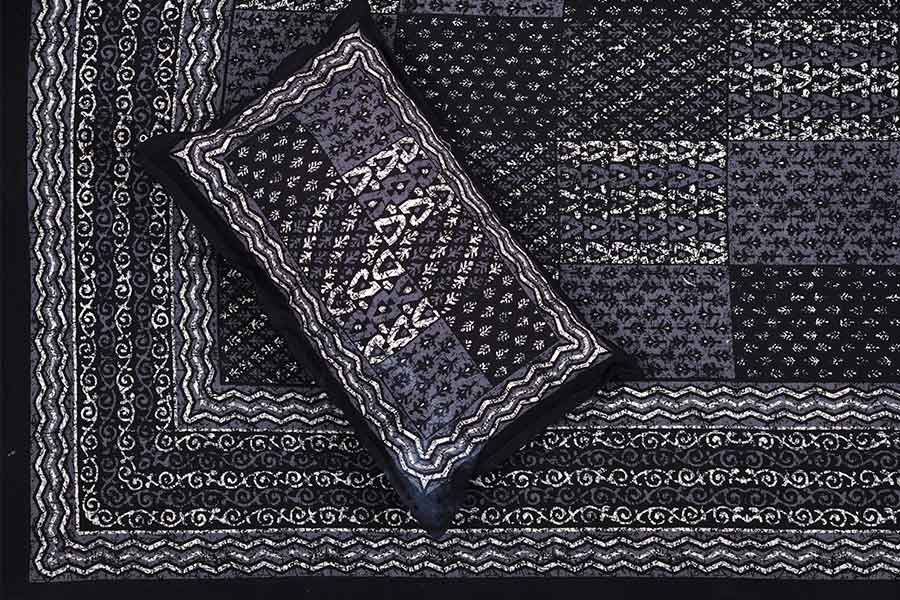 Handblock bedsheets:
Made using a traditional Indian printing technique called Handblock printing.
An ancient printing technique that uses hand-carved wooden blocks to stamp the fabric to create a pattern.
Each block is dipped in dye and pressed onto the fabric by hand.
Kids bedsheets:
Feature cartoons, and animals in their cartoon version.
Light in color.
Offer a wide range of designs in kids' bedsheets.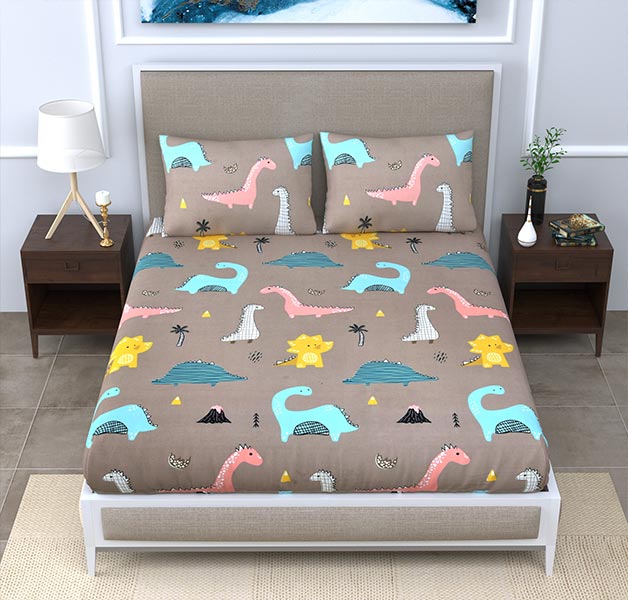 Sanganeri Print:
A type of hand-blocking print that originated in the town of Sanganer, Rajasthan, India.
Sanganeri prints are inspired by traditional Indian motifs such as floral, paisleys, geometric patterns, and more.
Each piece is unique as it is done by hand using wooden blocks.
Known for their durability and longevity.
Screen Printing:
Created using a screen printing technique where a stencil is made using a mesh screen and ink is pushed through it onto the fabric.
Allows for intricate designs, multiple colors, and cost-effective production.
These bedsheets have sharp and vibrant prints, are long-lasting, and can be machine washed.
To sum it up, when buying the perfect bedsheet for your bed, consider the season, the type of fabric, the thread count, and the size of your bed. Cotton and linen bedsheets are great options for summer, while silk bedsheets are perfect for winter. A thread count between 200-800 and a properly sized bedsheet will ensure a comfortable and luxurious sleep experience.
---