The term Bedsheet was first used in the 15th century. Bedsheets were traditionally white and made of cotton, linen, or silk, but now come in a variety of colors and patterns.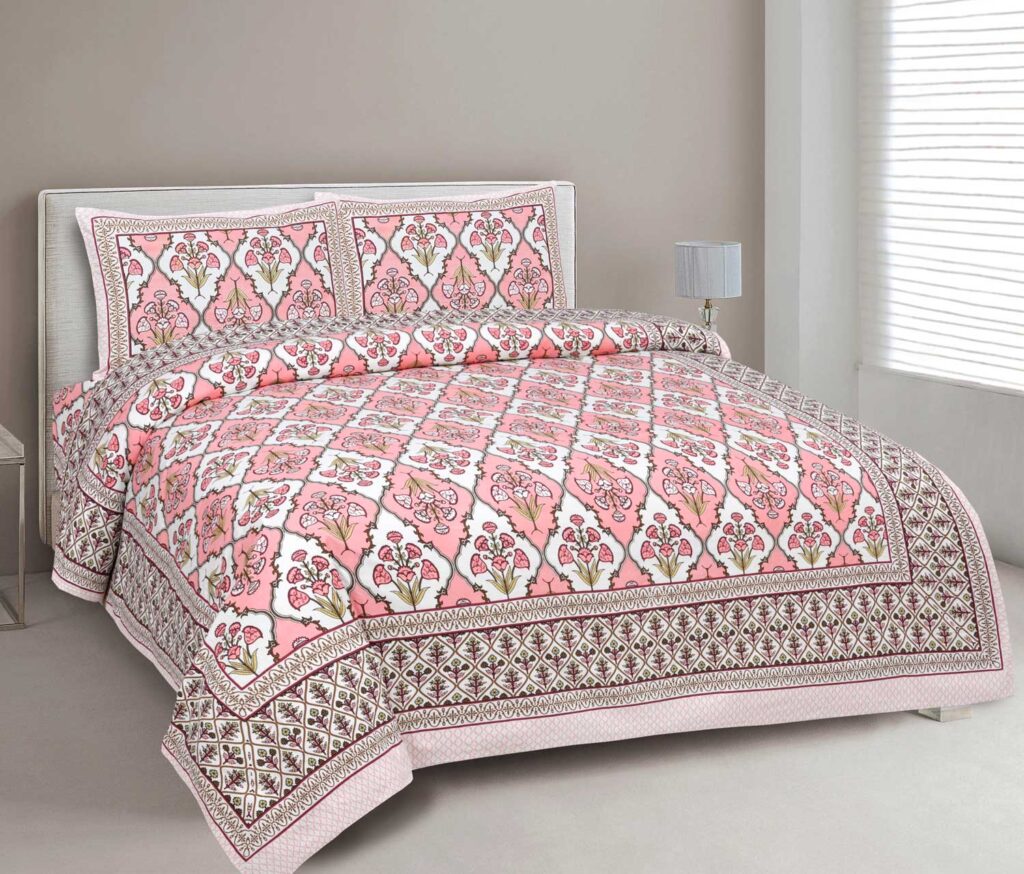 India is a country with rich history and cultural heritage, among many of its cultural heritage, one stands above is the distinctive clothing format. Our traditional attire is different from what we normally see, it is of ideal quality and rare availability.
Jaipur, the capital of India's largest state, is known for its traditional, colorful art. The main products are block prints, tie and dye prints, gotta patti, Bagaru prints, Sanganer prints, and Zari embroidery.
Jaipuri fabric comes in a variety of styles and can be found in a wide variety of assets and home furnishings. Here are a few examples of Jaipur fabric designs and prints.
Bandhej Prints: The process of tying and dying special fabrics produces Bandhej fabric. It's one of the most popular fabrics on the market, with high demand all over the world. This pattern can be seen in Jaipuri sarees, lehangas, and other women's attire.
Sanganeri Prints: Sanganeri fabric comes from Jaipur's Sanganeri neighborhood, as the name suggests. Sanganer is the reason that Jaipur has the highest number of fabric exports, both nationally and internationally.
Bagru Prints: The Chippa's (involved in the fabric printing tradition for over 100 years) in Bagru, India, practice Bagru Print, which is a type of hand block printing using natural colors. Bagru's prints are famous all over the world. Unlike other prints, Bagru Prints use a unique printing technique. Wooden blocks are used in this one-of-a-kind printing method. The desired design is first engraved on a wooden block, and then a carved block is used to replicate the design on the fabric in the desired color.
The bedsheet comes in two main varieties:
Flat Bedsheets
Fitted Bedsheets
Factors affecting the quality of the bedsheet
Cotton and cotton blends are widely used in the market for making bedsheets, with cotton and polyester being the most common blend. Cotton bedsheets are absorbent and have a soft hand.
Thread Count: The thread count, or the number of threads per square inch of material, indicates the quality of the bedsheet. The thread count of a sheet determines how soft it is.
Yarn: Yarn quality also influences the look and feel of sheets, as finer yarns produce a finer sheet fabric.
Ply: The ply also influences how heavy the sheet feels. The number of ply represents the number of fibers twisted together as the sheet is formed. A single-ply 600 thread count sheets will feel heavier than a 2 ply 300 thread count sheets.
1 – Guide to Buying BedSheets Online- Material, Thread Count, Bed Sheets Size
While shopping for bedsheets online, there are some common factors one must know. We've listed a few important points in detail below:
Any sheets made with 100% pure cotton fabric is a good measure of quality.
When you buy a bedsheet online, reading the product description section is a must as it gives you information such as bedsheet fabric, fiber, and cotton content, and thread count.
Bedsheets come in a variety of sizes. Single bedsheets are usually 60 x 90 in, double bedsheets are about 90 x 100 in. On the other hand, king-size bedsheets come in 100 x 108 in.
The color of the bedsheet certainly plays a significant role in determining the decor of your bedroom.
Sometimes, there might be a vast difference between online and actual photos of a bedsheet. In such situations, you should check the return and exchange policy of the website.
What Is The Best Material For Bed Sheets?
The best quality and comfortable material for bedsheets is Cotton, which has extra-long-staple fibers that produce luxurious and highly durable sheets. Cotton is the most durable, breathable, and soft fabric for hot and humid regions.