Selecting the right dress material for women is akin to a fashion artist picking the perfect canvas for their masterpiece. It is essential, it is personal, and it contributes significantly to the final look. In India, especially, the choice of dress material can transform a simple outfit into a regal one, thanks to the rich variety of fabrics available in our cultural mosaic. This comprehensive guide aims to help you navigate the sea of options in your quest for the perfect unstitched suit. Let's get started!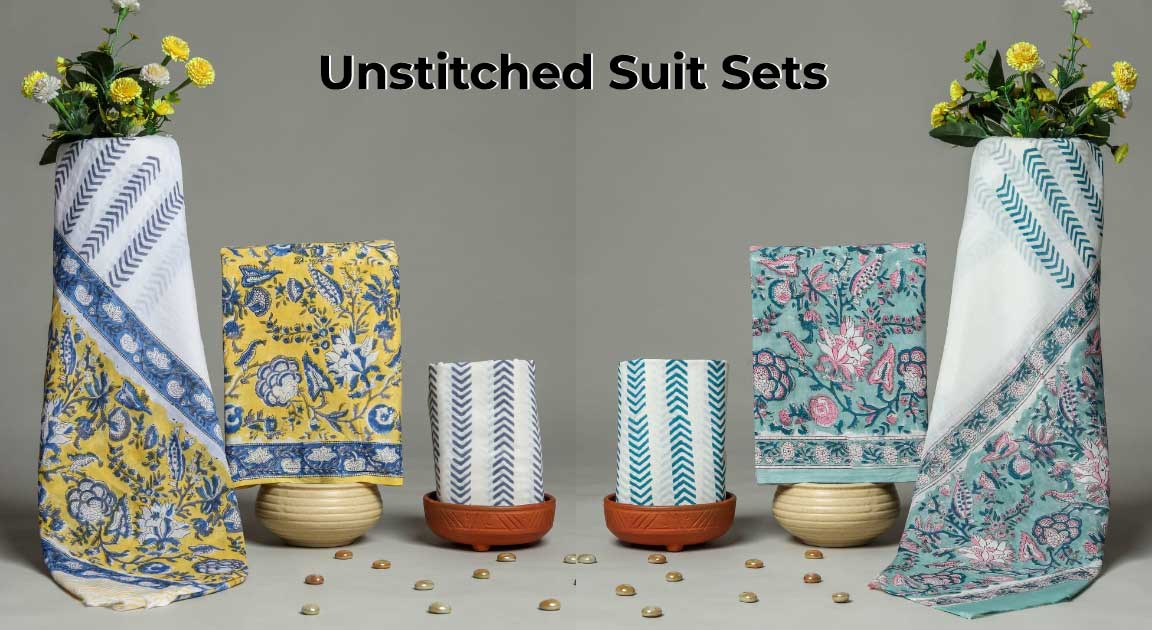 Explore the Magic of Dress Material
India is a treasure trove of diverse fabrics, with each region having its own unique textile tradition. When looking for unstitched suits, you'll encounter an array of beautiful materials, each with its own charm and story. Here are some of the most loved and sought-after ones:
The Classy Chanderi Silk Suit Set
Chanderi Silk Suit Sets are the epitome of elegance and sophistication. The Chanderi fabric hails from the heart of India, Madhya Pradesh, and has been a symbol of royal fashion for centuries. Its lightweight, sheer texture and delicate shimmer make it a must-have in every woman's wardrobe.
The Cool Cotton Suit Set with Cotton Dupatta
For comfort seekers who won't compromise on style, the Cotton Suit Set with a Cotton Dupatta is the go-to choice. The breathability and softness of cotton make it ideal for the Indian summer. Not only is it comfortable, but it also provides a canvas for beautiful prints and vibrant colors.
The Chic Cotton Suit with Kota Doria Dupatta
Take your love for cotton a step further with a stylish twist – a Cotton Suit with Kota Doria Dupatta. Originating from Kota, Rajasthan, the Kota Doria fabric is known for its lightweight, openness, and transparency. It adds an exquisite charm to your cotton suit and elevates your style quotient instantly.
The Majestic Maheshwari Silk Suit Set
Maheshwari Silk Suit Sets are a reflection of India's rich cultural heritage. They embody grace and grandeur, making them a perfect choice for special occasions and festive celebrations. Maheshwari Silk is characterized by its reversible border, lightweight, and glossy finish, making it a true testament to Indian craftsmanship.
Advantages of Unstitched Suit sets
One might wonder, "Why go for unstitched suits when the market is filled with ready-made options?" The answer lies in the art of customization and uniqueness that comes with dress material for women. Here's why unstitched suits are worth considering:
Customization according to your needs
Unstitched suits allow you to break free from the constraints of standard sizes and designs. You have the liberty to design your suit exactly the way you want, from the length of the kameez to the design of the neckline. You can also choose to add or skip elements like sleeves, slits, or embellishments.
Perfect Fit, Every Time
With unstitched suits, you can ensure a perfect fit, tailored to your body measurements. This is particularly advantageous for those who find standard sizes too loose or too tight in certain areas. You can have the suit tailored precisely to your size, ensuring a flattering fit that ready-made suits may not always offer.
Unique Designs
When you choose unstitched suits, you move away from mass-produced designs and step into the realm of unique creations. You can let your creativity flow and design a suit that truly represents your personal style. Be it a fusion of modern and traditional aesthetics with a Chanderi Silk Suit Set or a simple yet stylish Cotton Suit with Kota Doria Dupatta – the choice is entirely yours!
The joy of picking out dress materials and transforming them into a garment that reflects your personality is an experience in itself. So, dive into the world of unstitched suits in Urban Jaipur and let your fashion dreams take flight!
Which dress material to buy?
With so many dress materials to choose from, finding the right unstitched suit can be a thrilling journey. Remember, the best dress material for you is one that not only enhances your style but also complements your comfort and confidence. So go ahead, explore, experiment, and let your style shine through your choice of dress material! Buy cotton dress material for women from Urban Jaipur, we offer a wide variety of selections for you to choose from.
---