Fitted and flat bedsheets are both types of bedsheets that are used to cover a mattress. Both sheets come in various sizes, fabrics, and patterns. So, the question arises: of flat vs. fitted bedsheets, which one should you choose? Which one will be better for your bed? Well, your search for the answer ends here. In this blog, we will learn what sets flat and fitted bedsheets apart and which one is better for your bed.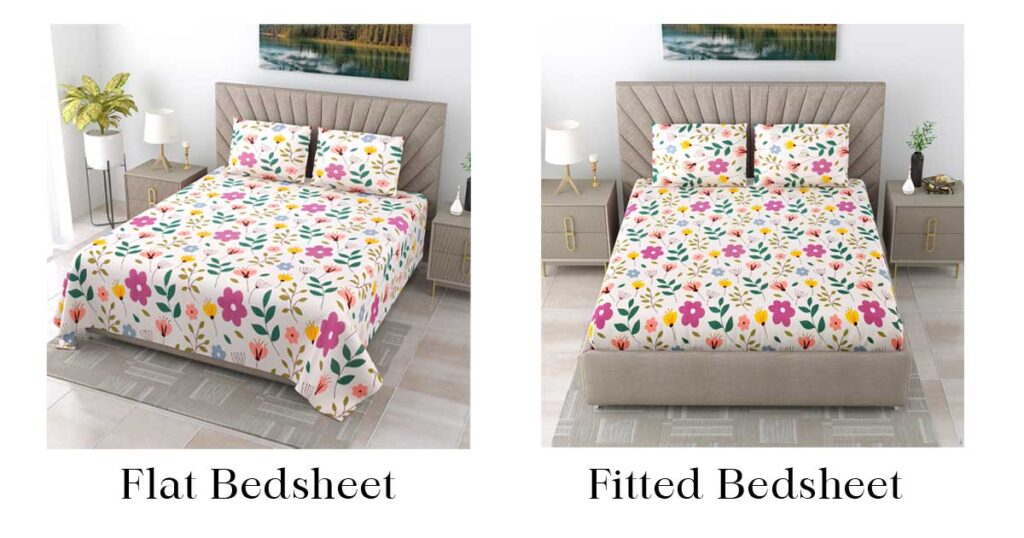 What is a Flat Bed Sheet?
A flat bedsheet is a large rectangular sheet that sits on top of the mattress. It adds an extra layer of warmth and comfort. Flat bedsheets are not typically folded in half and are either tucked under the mattress or simply laid flat. Flat bedsheets are of various sizes, such as those for a single bed, a double bed, a queen-size bed, a king-size bed, a super-king-size bed, and many more. Some of the most common fabrics used for flat bedsheets are cotton bedsheets, linen bedsheets, microfiber bed sheets, silk bedsheets, and satin bedsheets.
What are the Sizes of Flat Bed Sheets?
Single bedsheet measures 152 x 224 centimeters or 60 x 90 inches.
Double bedsheet measures 224 x 254 centimeters or 90 x 100 inches.
Queen Size Bedsheet measures 95*108 inches
King size bedsheet ranges from 274 x 274 centimeters or 108 x 108 inches
Super king bedsheet measures 274 x 274 centimeters or 120 x 120 inches.
What is a Fitted Bed Sheet?
Fitted bedsheets are designed to fit comfortably around a mattress. They have elastic around the edges, which helps them stay securely in place. The elastic at the end of the bedsheet provides a smooth and secure surface for the mattress, which can help protect the mattress from wear and tear.
Fitted bedsheets are easy to put on and take off the mattress, which can make it easy to change the bedding. Elastic-fitted bedsheets come in a range of sizes, from twin to king, so you can find one that fits your specific mattress.
What are the sizes of fitted bedsheets?
The fitted bedsheet size for a twin mattress is 38 inches x 80 inches.
The fitted bedsheet size for a full mattress is 53 inches x 75 inches.
The fitted bedsheet size for a queen mattress is 60 inches x 80 inches.
The fitted bedsheet size for a king mattress is 76 inches x 80 inches.
It's important to note that the table shows the standard size of the fitted sheet for each mattress, but it may vary depending on the brand or the manufacturing process.
What is the difference between Flat and Fitted Bedsheets?
| Parameter | Flat Sheet | Fitted Sheet |
| --- | --- | --- |
| Construction | Rectangular piece of fabric | Rectangular center with elastic corners |
| Placement on bed | Lays flat, loose on mattress | Stretches around mattress corners |
| Movement | Can shift around | Stays in place |
| Fit | Fits different mattress depths | Optimized for certain mattress thickness (~10″) |
| Versatility | Works for different mattress sizes | Specific to mattress dimensions |
| Changing sheets | Rectangular centre with elastic corners | Can be tricky with tight corner fit |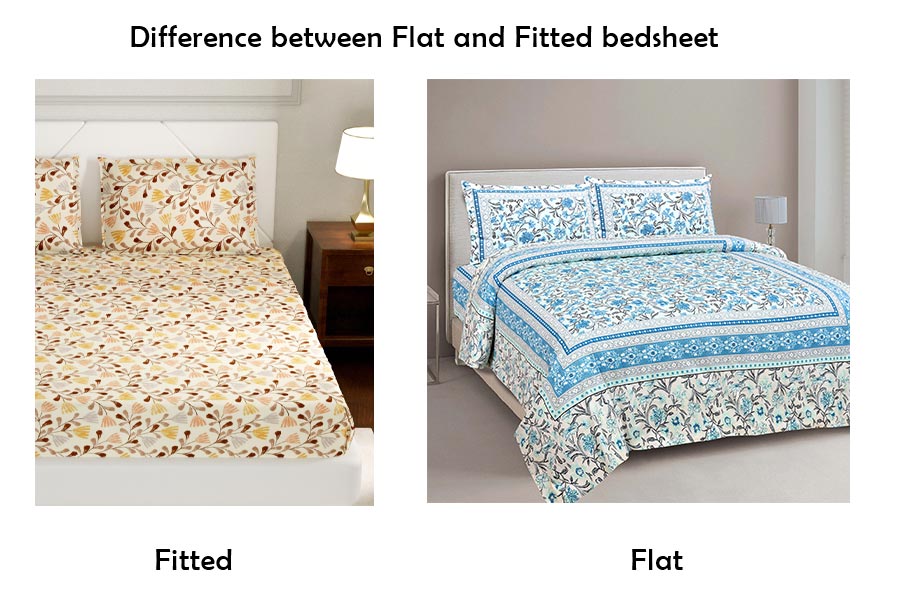 A flat bedsheet can be used on any type of bed, while a fitted sheet is designed to fit a specific size of the mattress.
Flat bedsheets are usually larger than fitted sheets, as they need to cover the entire bed and tuck in under the mattress.
Fitted sheets are machine washable and dried easily, while flat sheets may require more care during cleaning and handling.
Flat vs. Fitted bedsheet – Which one is better?
Aspect
Flat Sheets
Fitted Sheets
Pros
– Versatile – works for mattresses of varying sizes and depths
– Cooling – allows more airflow 
– Easier to wash and fold 
– Can be used as a quilt or blanket
– Stays tightly in place all night 
– Smooth fitted look 
– Optimized stretch for mattress depth
Cons
– Can shift around at night 
– Less fitted look on bed
– Hospital corners required to mimic fitted sheet
– Only fits specific mattress size
– Tight corners can be difficult to put on 
– Less versatile
Tips for Choosing Sheets
For restless sleepers: Fitted sheets are recommended to avoid disruption
Unsure about mattress size: Flat sheets work for multiple sizes
Looking for breathability: Prefer flat sheets for airflow
Want a smooth look: Fitted sheets provide a tighter fit
Have mobility challenges: Flat sheets are easier to handle
Prioritize easy washing: Flat sheets fold and launder simpler
Review mattress dimensions before purchasing fitted sheets. Change sheets every 1-2 weeks for optimal hygiene. Store sheets in a cool, dry place to prevent wearing. With this summary of distinctions between flat and fitted sheets, you can determine the right option based on your priorities and needs.