Choosing a bedsheet for your child is a big deal, especially when you don't know if they will like it or not. You can opt for a better fabric, but the design has to go according to your child's likes.
Bedsheets must be soft and comfortable in order for your child to get a good night's sleep. Cotton and other breathable and light fabrics should be used. Bedsheets are an important part of home decor. Beautiful bedsheets can turn your child's room into a haven.
Choose bed sheets with kid-friendly themes and bright colours to make bedtime more enjoyable for children. Because every child is unique, our children's bed sheets come in a variety of designs. You will be able to see the sheer joy on your child's face if you choose the right bedsheet. Your child will sleep soundly on sheets that can inspire wonderful dreams.
Guidelines to buy kids bedsheets
Aside from keeping your child cosy and warm, the bedsheet should match your child's personal preferences. You should also make certain that it complements the overall decor of your child's room. Here are a few more pointers to help you choose the best kids bedsheet from our collection: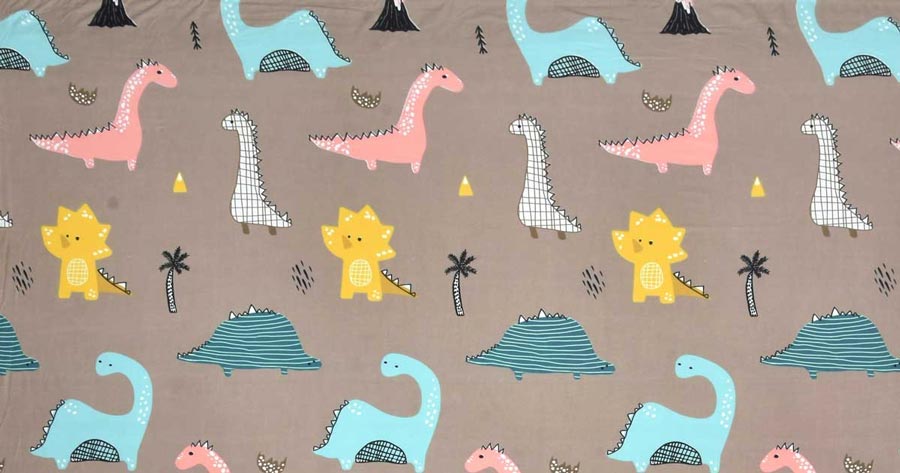 A child's room should reflect their individual preferences and hobbies. After all, childhood is the most joyful time of our lives, so why should we provide our children with dull and flat furniture or furnishings? We must always make an effort to purchase the brightest, most pleasant colors for children, as well as things that the child would enjoy even if they chose the product themselves.
We must allow kids to enjoy their hobbies, whether they are dolls and unicorns or vehicles and rockets!
Similarly, children's bedsheets and coverings should always be in entertaining prints. Thankfully, we have thatcovered for any type of kid's bed sheet that you might require. Whether it's a single bed sheet for two beds at home or a double bed sheet for your child's enormous bed, you can get the best kids' bedsheets with the best prints. 
Here are our best selling kids bedsheets you can select for your child
1. Coffee Brown Printed Kids Bedsheet Set 144 TC, Dinosaur Theme
If you are looking for a animal printed bedsheet for you child who loves animals, get the Cute little dinosaurs printed on the bedsheet, who wouldn't want that, right? click the link below and buy the bedsheet now.
2. Gray Lion Theme Double Bed Kids Bedsheet with Pillow Covers
A Lion themed bedsheet for your lion hearted kid.
3. Cute Cat Prints Kids Bedsheet Set with Pillow Covers, Baby Pink
You or your child loves cats? this is the bedsheet for you to go for cat lovers, pink color, and cat printed bedsheet.
4. Sky Blue Printed Kids Bedsheet Set 144 TC, Panda Theme
Panda's are the cutest, your kid probably loves panda, why don't you surprise them with a panda printed cute bedsheet.
5. Animal Theme Kids Bedsheet with Pillow Covers (King Size, 100% Cotton) – Baby Pink
A pure cotton animal themed kids bedsheet for your child. Snails, rainbows, circle, this kids besheet have everything to keep your child happy looking at the bed.
6. Jumbo Elephant Double Bedsheet For Kids with Pillow Covers (King Size, 100% Cotton) – White, Blue
A plain bedsheet with cute animal prints, pure cotton bedsheet for kids.
7. Butterfly Prints Kids Bedsheet with Pillow Covers (King Size, 100% Cotton) – Yellow
Who doesn't love butterflies, grab this bedsheet for your kids room with amazing cotton quality. Crafted with happiness, this bedsheet will provide a soft and comfortable feel.