Summer is a season of warmth and fun, but it can also be a time of discomfort and sweatiness. Fortunately, there is a simple solution to beat the heat and stay comfortable all summer long: cotton dohars. Here are some tips on how to stay cool and comfortable this summer with cotton dohars:
Benefits of Cotton Dohars for Summer
Cotton dohars are a popular choice for summer bedding because of their lightweight and breathable qualities. Here are some of the reasons why cotton dohars are the ideal choice for summer weather:
They are made from natural cotton fibers, which allow air to circulate and keep the body cool.
They are lightweight, so they won't weigh you down or trap heat.
They are hypoallergenic, making them an ideal choice for those with allergies or sensitive skin.
They are more eco-friendly and sustainable than synthetic fabrics commonly used in summer bedding.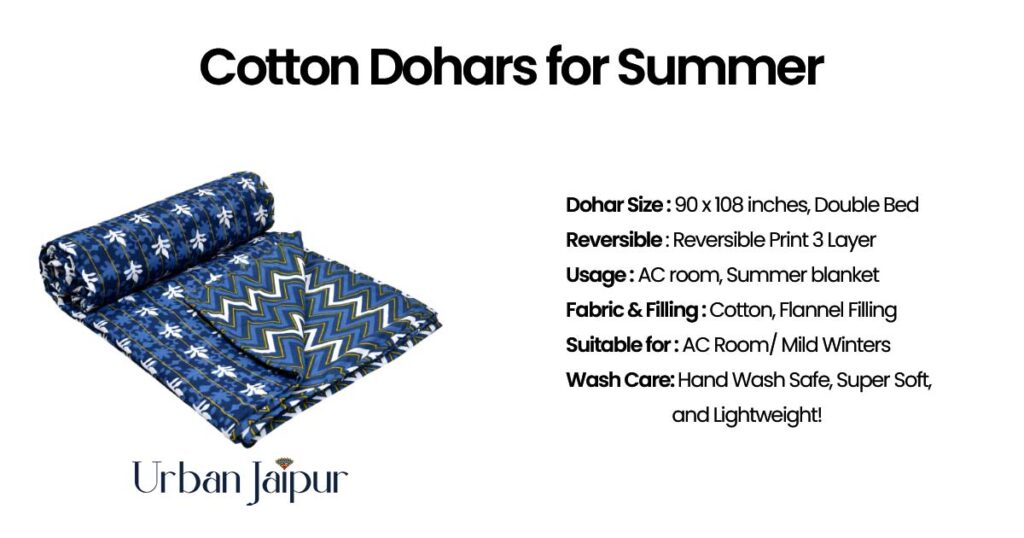 Choosing the Right Cotton Dohar for Your Needs
When selecting a cotton dohar for summer, there are a few factors to consider to ensure you get the most out of it:
Thread count: Look for a cotton dohar with a high thread count, which indicates the quality of the fabric and makes it more durable. A higher thread count also ensures that the fabric is softer and more comfortable against your skin.
Weight: Opt for a lightweight cotton dohar that won't trap heat and make you feel too warm. The weight of the cotton dohar is determined by its GSM (grams per square meter) value. A GSM value of around 100-150 is ideal for a summer cotton dohar.
Size: Consider the size of the cotton dohar to make sure it fits your bed and provides adequate coverage. A standard-size cotton dohar is usually around 220 x 240 cm, but you can also find larger or smaller sizes depending on your needs.
Blend: You can also consider cotton dohars made from a blend of materials, which can provide added benefits such as increased softness and moisture-wicking properties. Some popular cotton dohar blends include cotton silk, cotton linen, and cotton bamboo.
Caring for Your Cotton Dohar
To ensure the longevity of your cotton dohar and keep it in good condition, follow these care instructions:
Wash your cotton dohar in cold water on a gentle cycle. Avoid using hot water, which can damage the fabric and cause it to shrink.
Use a mild detergent that is specifically designed for cotton fabrics. Harsh detergents or bleach can damage the fibers and cause them to become brittle.
Dry your cotton dohar on a low heat setting or hang it outside to air dry. Avoid using a high heat setting or tumble drying, as this can cause the fabric to shrink or become damaged.
Store your cotton dohar in a cool, dry place to avoid damage from humidity or moisture. Avoid storing it in direct sunlight or in a damp environment, as this can cause the fabric to fade or become moldy.
Styling Your Cotton Dohar for Summer
Cotton dohars can be used in a variety of ways to add a touch of style to your summer décor. Here are some tips on how to style your cotton dohar for summer:
Layer it: Use your cotton dohar as a lightweight layer over your other bedding for added texture and color. You can layer it over your comforter or duvet cover to add a pop of color and keep you cool on warmer nights.
Drape it: Drape your cotton dohar over the back of your couch or armchair for a stylish and functional summer accessory. It can add a pop of color and texture to your living space while also being within easy reach for those cooler summer evenings.
Picnic blanket: Use your cotton dohar as a picnic blanket for a fun and functional summer activity. It's lightweight and easy to carry, making it the perfect choice for picnics in the park or at the beach.
Beach towel: Cotton dohars can also double as beach towels. They are lightweight, absorbent, and easy to clean, making them a great choice for a day at the beach or pool.
In conclusion, staying cool and comfortable during the summer months can be challenging, but with the right bedding, it's possible to beat the heat and enjoy the season. Cotton dohars are a versatile and functional option that can provide both comfort and style, making them an ideal choice for summer bedding. Whether you use them as a lightweight layer or a stylish accessory, cotton dohars are a must-have for anyone looking to stay cool and comfortable this summer.
---