A dohar is a lightweight, breathable quilt that is perfect for summer weather. There are several reasons why you need a dohar this summer. Dohars are lightweight and comfortable, allowing you to sleep soundly without feeling weighed down. The breathable fabric helps regulate your body temperature, preventing you from getting too hot or too cold while you sleep.
Dohars come in a wide range of colors, patterns, and designs, making them a stylish addition to your bedding collection. Whether you prefer bold and vibrant prints or subtle and soothing hues, there is a dohar to suit your taste.
Keep You Cool and Comfortable All Day Long.
When it comes to beating the heat, a Dohar is your go-to item! It is incredibly breathable and incredibly light, so you won't feel bulky or weighed down. This makes it perfect for all your outdoor activities, whether you're at the beach or just running errands. The lightweight fabric will keep you cool and comfortable all day long so you can stay stylish and enjoy the summertime fun!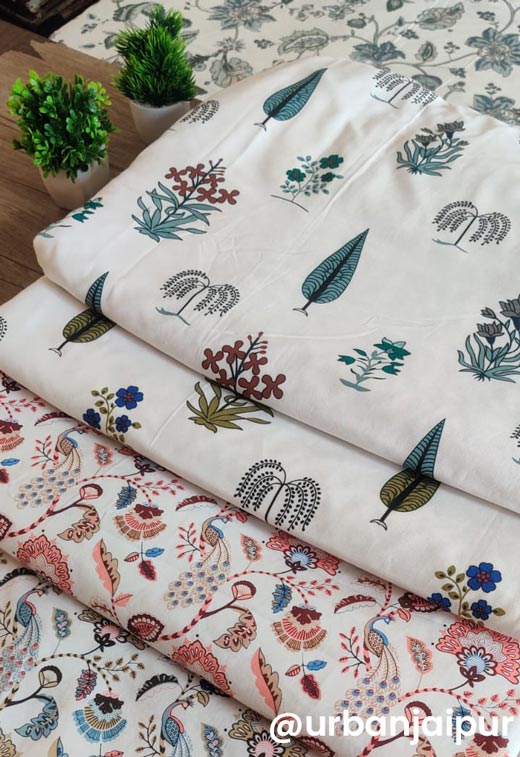 Plus, the convenience of having a Dohar means never having to worry about getting too overheated or feeling too hot. You can just throw it on and be able to enjoy your day without having to worry about any heat-related issues. This makes it perfect for summertime activities such as camping, outdoor sports, and even bonfires! With its lightweight fabric, you can take it anywhere while still staying cool and comfortable all day long.
Very Lightweight and Portable – Dohar| AC Quilt
With a Dohar, you don't have to worry about lugging around something heavy or clunky. This piece is so light that it's literally like carrying a feather around with you! You can even fold it up into a compact size that can easily fit in your tote bag. This makes it perfect for travel and lets you take your look with you wherever life takes you!
Not only are they lightweight and portable, but they're also extremely versatile. You can use it as a beach blanket, a picnic blanket, or even a throw when you're out in the park. As it is an extremely lightweight layer of clothing that keeps you comfortable even in warm and humid weather. With its breathability, it is the perfect way to keep cool this summer and transition your look with ease! Furthermore, dohars come in all kinds of colors and patterns meaning you can switch up your look as much as you'd like!
Stylish and Versatile Design of Dohar
A Dohar is more than just a way to stay cool during hot summers. With its versatile design and beautiful prints, you can get a piece that adds an extra touch of style and personality to your look! Plus, it has multiple uses—you can use it as a bedspread, a picnic blanket, or even as an outdoor throw for chilly nights. The options are truly endless when it comes to styling with a Dohar!
Not only is a Dohar great for styling, but it's also incredibly practical when it comes to keeping cool—which makes it perfect for summertime. The double-layered cotton makes the dohar breathable and helps keep you comfortable when the temperature rises. It's lightweight, too, making it super easy to carry around when you're on the go. Plus, since the fabric used in Dohars is airy and breathable, they are ideal for humid weather conditions. With a Dohar in your wardrobe this season, there's no doubt that you'll be able to beat the heat and stay stylishly cool all summer long!
Easily Washable and Maintainable Jaipuri Dohar
You don't need to stress about spills and stains; a Dohar is incredibly easy to clean and maintain. They are usually machine washable but can also be hand washed with just a bit of detergent, making them perfect for those spontaneous outings that require something more lightweight than your regular quilt. Plus, Dohars is naturally wrinkle-resistant so you don't have to worry about the extra hassle of ironing them!
Dohars are also known to be softer and more flexible than cotton quilts or comforters, which makes them ideal for use in warmer months. Some Dohars are made from blends of polyester, acrylic, and other synthetic materials that give you a lightweight feel but offer high-quality insulation against heat. You can rest assured knowing that when those summer nights become too hot to bear, your Dohar will keep you just the right amount cool and comfortable until daybreak!
Easy To Layer For Hot or Cold Weather – Jaipuri Dohar
Layering up with your Dohar is the perfect way to adjust to different weather conditions. You can simply fold it and use it as a lightweight coverup during warm days or layer it over other blankets on cold days. The beauty of a Dohar is that you can easily customize its thickness depending on the temperature outside and avoid feeling uncomfortable in any kind of weather.
When the temperature falls and you start feeling cold, simply layer your Dohar over other blankets. Its lightweight material will provide extra warmth while still allowing your body to breathe and preventing that suffocating feeling that tends to come with heavy bedding. Due to its lightweight fabric and mostly cotton composition, the Dohar is also ideal for warm weather. When temperatures are rising, you can fold it up and keep it at hand as a coverup or airy wrapping whenever you need to cool down. Whatever the season throws at you, a Dohar has got you covered!
Overall, a dohar is a must-have for anyone looking to stay cool, comfortable, and stylish this summer. With its lightweight, breathable fabric and versatile design, it's no wonder why dohars have become a popular bedding choice across the world.
---