Choosing the right bed sheet is as crucial as selecting the perfect mattress. After all, the comfort of your sleep depends not only on the bed you lie on but also on the sheets that envelop you at night. But with an overwhelming array of sizes available in India, how can you be sure you're picking the right one?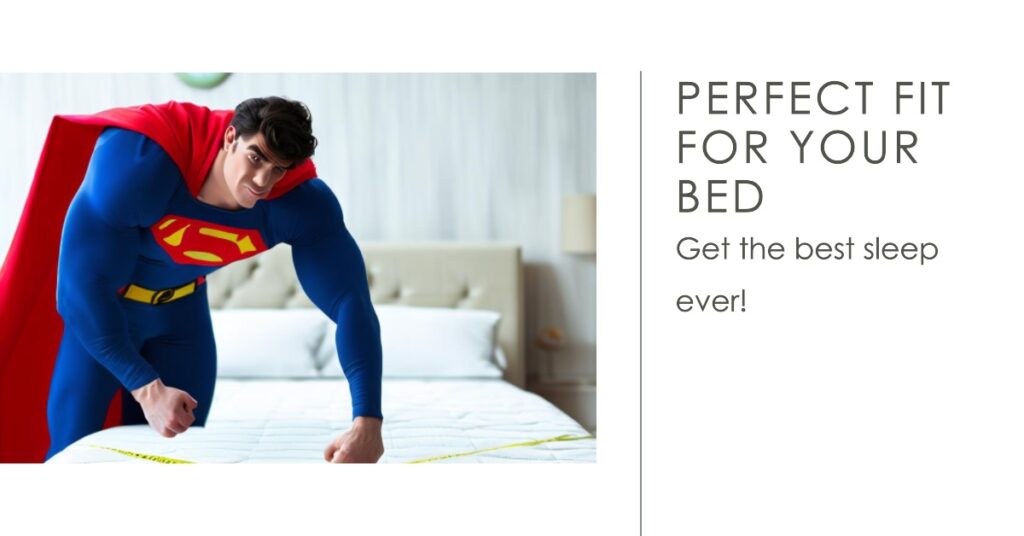 This is where it starts to feel like solving a complex puzzle. But there's no need to worry, for you've landed at the right place. At Urban Jaipur, we believe every detail matters when creating a cozy, comfortable sleeping space.
"Remember, the perfect bed sheet is one that not only fits your bed but also complements your style, provides comfort, and fits into your lifestyle."
Bed Sheet Sizes in India
After you've measured your mattress and figured out the pocket depth, the next step is to consult a bedsheet size chart. This chart outlines all the different sheet sizes available in India and which mattress size each one fits best. Here's a comprehensive standard bed sheet size chart in India:
Single Bedsheet Size: 60 x 90 inches, 152 x 229 cm
Double Bedsheet Size: 90 x 100 inches, 229 x 254 cm
Queen Size Bedsheet Size: 95 x 108 inches, 241 x 274 cm
King Size Bedsheet Size: (100/108) x 108 inches, (254/274) x 274 cm (100×108 and 108×108 are both King Size bedsheet)
Super King Size Bedsheet Size: 120 x 120 inches, 305 x 305 cm

Our fitted bedsheets will fit mattress sizes of 8 inches to 10 inches.
Fitted Bed sheet Size chart
2023 has seen an increase in the popularity of fitted bed sheets. They, come with elastic edges, ensuring a snug fit to your mattress and preventing the sheet from slipping off. The sizes for fitted bed sheets align with the standard bed sizes, but remember to consider the depth of your mattress before choosing.
When choosing a fitted bedsheet in India, here are the typical sizes to consider:
Single Bed Fitted Sheet: Usually measures 36 inches by 78 inches.
Double Bed Fitted Sheet: Typically measures 54 inches by 78 inches.
Queen Size Fitted Sheet: Generally measures 60 inches by 78 inches.
King Size Fitted Sheet: Often measures 72 inches by 78 inches.
Super King Size Fitted Bedsheet – Measured 80 inches by 80 inches.
Pro Tip: Make sure you measure your mattress accurately before purchasing your bed sheet. This includes the length, width, and depth in the case of a fitted sheet. Remember, a well-fitted bed sheet not only looks neat but also provides a better sleeping experience.
How to Choose the Perfect Bed Sheet?
In addition to the size, there are a few crucial factors to consider when choosing the perfect bed sheet for your room:
Fabric Quality: The fabric plays a significant role in the comfort and durability of a bed sheet. Materials like cotton, silk, or satin have different feel and durability levels. Be sure to select a fabric that suits your skin type and climatic conditions.
Thread Count: A higher thread count often means a softer and more durable bed sheet. But remember, the quality of the threads matters just as much as the quantity.
Design and Color: The bed sheet's design and color should match your bedroom's overall aesthetic. Whether you prefer traditional prints, solid colors, or modern patterns, we have it all at Urban Jaipur.
Ease of Maintenance: Some bed sheets require more care than others. If you prefer easy upkeep, opt for machine-washable and wrinkle-resistant fabrics.
Weave: The weave of the fabric influences the texture, luster, softness, and durability of your bed sheet. There are several types of weaves, like percale, sateen, twill, etc. Each type of weave has its unique qualities, for instance, percale is lightweight and breathable, while sateen offers a silky smooth finish. Choose a weave that aligns with your comfort preference and lifestyle.
Difference between Flat and Fitted Bed Sheets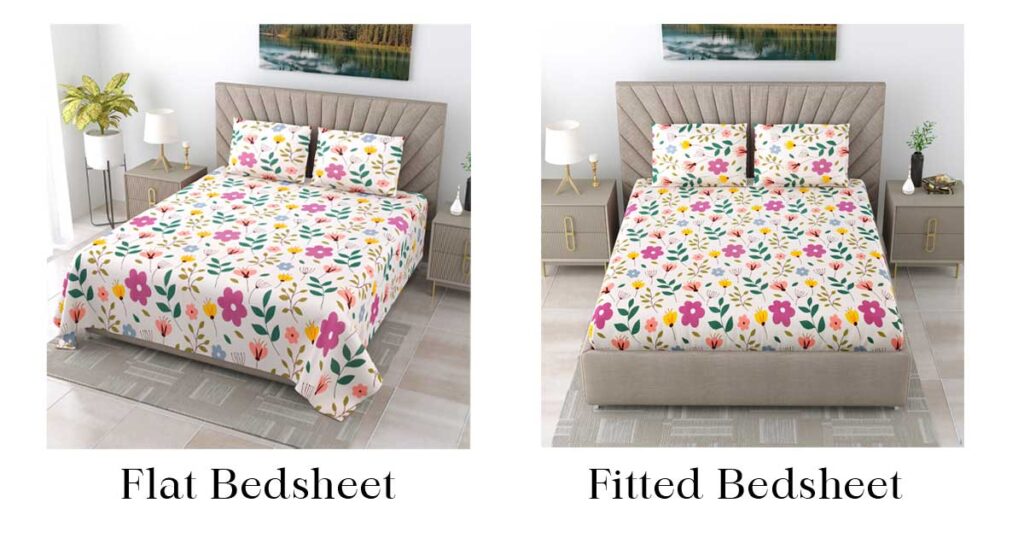 As you can see in the image above, the difference between a flat bedsheet and a fitted bedsheet is quite straightforward. The fitted bedsheet comes with elastic corners that make it easy to set up on your mattress, ensuring a snug fit without any hassle. On the other hand, a flat bedsheet has a simpler design, allowing it to lay flat or giving you the option to tuck it under your mattress according to your preference.
Selecting the right bed sheet size goes beyond ensuring a snug fit. The size of your bed sheet can transform your bedroom, adding a different element to your decor.
In wrapping up, understanding bed sheet sizes doesn't need to be a daunting task. With the help of our bed sheet size chart, we hope you feel better equipped to make informed decisions when buying your next bed sheet. Remember, choosing the right size is a critical step toward a comfortable and restful night's sleep.
Here at Urban Jaipur, we strive to bring clarity to your shopping experiences, making them as effortless and enjoyable as possible. We believe in the importance of every detail that contributes to a blissful sleep environment, and we're dedicated to helping you create yours.
So, next time you're wondering about bed sheet sizes, refer back to this guide. At Urban Jaipur, we're committed to making your shopping experience seamless, whether you're looking for a single, double, queen, or king-size bed sheet.
Frequently asked questions about Bed sheets size chart
Q: What is the size of king size bed sheet? A: A king size bed sheet is the largest standard size available, it measures 108 inches by 108 inches.
Q: What is size of queen size bed sheet? A: A queen size bed sheet is slightly smaller than the king size but still offers ample room. Generally, it measures around 95 inches by 108 inches in India.
Q: What is size of double bed sheet? A: A double bed sheet is designed to fit a double bed, which is smaller than a queen bed. In India, it usually measures around 90 inches by 100 inches.
Q: How do you measure bed sheet size? A: To measure a bed sheet size, you should measure the length, width, and depth (especially in the case of fitted sheets) of your mattress. These measurements will guide you to choose a sheet that fits your bed perfectly.
Q: What is size of single bed sheet? A: A single bed sheet measures approximately 60 inches by 90 inches.
Q: What is the largest bed sheet size? A: The largest standard bed sheet size is the king size, which generally measures about 108 inches by 108 inches in India.
Q: How to choose bed sheet size? A: To choose the right bed sheet size, you should first know the dimensions of your mattress. After that, refer to the bed sheet sizes chart to find a sheet that matches those dimensions.
Q: What is the size of a king size bed sheet in cm? A: A king size bed sheet in India typically measures around 274 cm by 274 cm.
As you journey on in your quest for the perfect bed sheet, remember this guide as your trusty roadmap. Whether you're dressing a single bed or a king-size one, now you have the knowledge to choose with confidence. After all, a good day starts with a good night's sleep, and a good night's sleep starts with the perfect bed sheet. Sweet dreams!
---
We hope that we were able to help you out in finding the perfect fit for your matters. Check out our category pages for more information on the designs and colors of the bedsheets.