Buying bedding is never easy, especially nowadays when we have so many options available. Differentiating between a dohar, a quilt, and a comforter online is just as difficult as looking for one in a market with various quality options at different price ranges. Here we put together a guide to help you understand the difference between a dohar and a comforter, and which one is the ideal choice for your bedroom
Which one is better Comforter or Dohar?
The primary difference between a comforter and a dohar is that a comforter is an extra-thick bed cover made of two layers of the same fabric stuffed with wool or artificial fiber. A dohar, on the other hand, consists of top, middle, and bottom layers. The upper and lower layers are made of soft cotton/Mulmul fabric, while the middle layer is Falalen, a thin layer of cotton.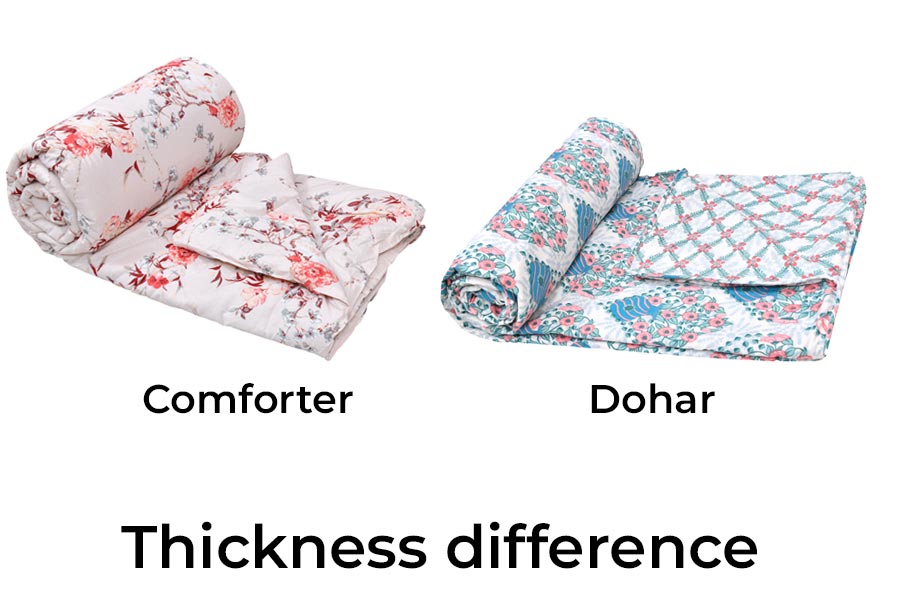 What is a dohar?
Before you search for dohar online, let us first define what a dohar is. A Dohar is a light covering traditionally made up of three layers of cotton muslin stitched together. The upper and lower layers are made of soft cotton or pure Mulmul fabric, while the middle layer is usually a cotton or flannel layer filled between the two sheets for extra warmth.
The dohar has traditionally been used as a summer blanket. It is ideal for when you require a little more warmth than a cotton sheet. Mulmul dohars are soft, light, and breathable, perfect to use in AC rooms and mild winters. Dohars are used all year round but are most popular during summer as an AC blanket.
Dohar is known by various names around the world, such as a thin blanket, coverlet, duvet, thin comforter, Indian comforter, and AC Dohar or AC Quilts.
Dohar is easy to maintain and wash at home. For hand-block printed dohar, it is recommended to dry it in the shade. Our Dohars are breathable, and lightweight, and help you maintain a comfortable body temperature while you sleep. Check Cotton Dohar Online here.
What is a Comforter?
A comforter is a cozy winter blanket that combines warmth and lightness to the fullest. The word "comforter" is well-known in India because of its common uses in the US. A comforter is a type of blanket made for slightly cooler weather, such as winter. A comforter is made of two layers of decorative fabric that are stitched together all around and filled with down or other materials such as wool, silk, and microfiber. To keep the filling in place and make sure it is distributed evenly, they are typically stitched through. In contrast to a quilt, the stitching is only functional rather than decorative.
Depending on the model, a comforter has multiple layers and is filled with various types of fillings for insulation. The fillings' thickness determines the weight and level of protection a comforter provides.
They can be used to create a covered appearance even though they are designed to be used as a blanket on top of beds. A comforter can be used in both modern and traditional contexts and is available in a variety of patterns and styles.
What is the Difference between a dohar and a comforter?
A dohar is a type of blanket made of soft materials that are lightweight and breathable, as opposed to a comforter, which is a blanket made of heavy materials.
The top and bottom layers of a dohar are made of cotton, while the middle layer is made of either cotton or wool. A comforter has two layers made of cotton, wool, or microfiber.
A dohar is the ideal blanket for summer and slightly hot weather, while a comforter is suitable for winter and cool weather.
A dohar is a small blanket that takes up less space than a comforter and is ideal for traveling because it can fit in your carry-on luggage.
Where To Buy Comforters and Dohars Online?
You can pick from a range of comforter, dohar, and Jaipuri Razai patterns from Urban Jaipur. Here, you'll find motifs and patterns that range from modern to traditional. Block-printed cotton fabric with a high thread count is layered on top of muslin fabric for making products.
---
You can shop for AC Quilts, Dohars here:
You can buy Comforters from here: